December 2008 : I did a judo competition with My club: "Le challenge des petits Samouraïs" and I won my three fights by ippon. I really like judo, the atmosphere is completely different from golf and I'm learning a lot of things that will help me in golf...
I also won the last Kid's cup of the year, then the snow came.
So we started skiing.
I went to spend a day at the Sports Stars in La Plagne. A magical day. We ate lunch with Raphaël Jacquelin and Guy Forget. I then spoke with Alain Bogossian and many other athletes I had seen on TV, especially during the Olympic Games. It was GREAT, FABULOUS... I also had fun with Romane, Raphël's son.
I gave a golf lesson to Tony Estanguet and Antoine Dénériaz because we hit soft balls in a gymnasium, it was fun. In the evening, during the awards ceremony, there was an impressive number of great champions in the room, such as Stéphane Diagana, Jackson Richardson, Marie-José Perec, Fabien Galtier and many others that I did not know. In short, a day that I am not ready to forget.
As the snow is here and there, I put my clubs away in the garage for a while but I miss them already.
Have a good holiday season.

November 2008: Nothing in particular at the end of the season, I won a kid's cup in My Club de Charmeil with a 5-stroke lead. For 1 month, I have been playing ice hockey at the Brûleur de loups. I'm really having fun.

October 2008: I took part in the final of the Elite Junior Tour on 26/27 October at Eurodisney. I finished 1st of the 7 year olds and 3rd of the 8 year olds.
but it hasn't been my day.
I circled around the holes the whole game. A real lack of success. Even my last 6m putt hit the mat and stayed 2cm from the hole. I put a ball in the water for 10 small cm...
In short, it's golf!!
I played +5 ex æquo with the 2nd of the 8 year olds and two short strokes from the first.
The Junior Elite Tour is really my favorite competition in France. Lionel Monce and his whole team really try to make things fun while playing seriously. We have adapted distances (and not 50m starts or red balls) and the possibility that at our age we will still be helped... They are inspired by the world championships and that is really smart.
A HUGE thank you to them.
This weekend a team from TF1 with Yann Hovine came from Paris to film me... The report should be on the 8 p.m. news this Thursday, October 23...
October 12, 2008!! At 7 years and 45 days I succeeded my first HOLE-IN-ONE and in competition during the regional championships at the Seyssins golf course. It was a par 3 of 123 m. I played a little wood 5. As the ground was hilly we did not see the ball go in.
Arriving on the green there was no ball, weird!!
Someone said "but maybe she's in the hole!!?? "
I went to see very slowly and.... yesiiii she was there, I was overjoyed, my heart was beating so hard that it hurt me... I will remember this for the rest of my life!! I didn't win a car but I got a gold medal...
FYI, my friend Tiger made his first hole-in-one at 8 years old but he doesn't say if it was in competition ;-)) (source: his website in the "Did you know" section page 3)

September 2008: I almost forgot!! I played a competition in Bresson (it's still rare for me to play 18 holes) and I played 89 of the reds, which means that my index is 29 Now...
Just spent a MAGIC weekend in Megève at the GREEN VELVET. A huge thank you to Fabrice Tarnaud and Pierre-Antoine Missud for allowing me to experience this as well as to Pascal and Martine Philippe. You can see the report here:



I did my first press conference surrounded by 6 French pros: Jean François Luquin, Jean François Remesy, Jean Batiste Gonnet, Raphaël Jacquelin, Gregory Havret and Marc Antoine Farry.
Can you imagine that!!!
I answered questions from journalists and listened carefully to what the pros were saying. Then there was the gala evening where I had to put on my golf suit and tie. There came Christian Cévaër and Michael Lorenzo Vera with whom I talked a lot.
There was an auction of golf articles donated and autographed by the players for the benefit of the Petits Princes association.
On Saturday morning there was a pro-am and I was able to closely follow some of the pros like Michael, Raphaël, Jean Baptiste and I even caddyed Bérine Tarnaud. I loved !!
Afternoon guess!! I did a precision competition on 2 holes with the 8 French pros. Approach at 100 m you had to be as close as possible to the flag. There were a lot of spectators. In addition they were really very very close to us. I hit the last one and I put my ball about 4 meters from the flag allowing me to finish 4th !! but I won't tell you who I beat ;-))
Then we had to exit the bunker 50m from the flag and there the same thing happened, my ball was about 4m from the mast and I finished 3rd!!!!
A huge treat!!
I still had my legs shaking and my heart beating at 200 an hour. I will remember it for a long time...
After they all came to congratulate me. They are all really super nice.
You should see this on Sport+ sometime in October.
The general atmosphere and the organization of the Green Velvet was really great. I hope I can go back there for many more years and I urge you to go there next year.
You can see other photos on my page "Photos"
Fabrice Tarnaud surprised me by inviting me to the GREEN VELVET he is organizing in Megève at the Mont d'Arbois golf course in September 18 to 21 After the gala evening organized for the benefit of the Petits Princes association, I will have the tremendous pleasure of playing a "Shoot Out" with the 8 best French pro players: Michael Lorenzo-Vera, Gregory Havret, Raphaël Jacquelin, Christian Cévaër, Jean-François Lucquin, Jean-Baptiste Gonnet, Jean-François Remesy, Marc-Antoine Farry and me the little Tom I will be the 9th!!
Can you imagine that??
I can't wait to be there, we're going to have fun and don't worry, I'll tell you in detail...
After a short break of 15 days I resumed training when we had said a month without golf but I missed golf too much.
It's back to school. I'm happy to see my classmates again.
I also discovered karting. It's really awesome. I had a blast and I'm only 1s 752 from the track record in the -30kg minikart category after only 2 sessions. September and October are going to be busy but I'll tell you...

August 2008 : 3rd and last day of the tournament.
Departure in the last parts, so getting up at 8:30 am is perfect. Shower, breakfast. and off to the competition.
Small approach warm-up, then a bucket of balls at the driving range, return approaches followed by putting. It is already very hot. A cart takes us to the start.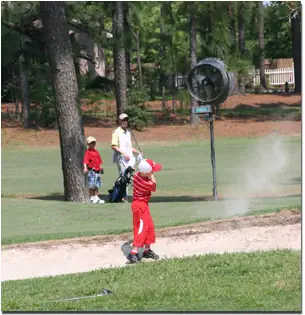 Starter announcement, I play first and drive a little to the right. Second shot of 67 m, I miss my shot and I stay too short. I have to make an approach to the pitch and I go straight in!!! Cooooool, a birdie the day is going to be good and I'm going to win.
Hole 2 par 3: I miss my 8 iron shot and the ball goes behind the green. My approach is too short and I make two putts, the second is 5 cm from the hole. Ouch!! Back to zero.
Hole 3 par 5 : Correct drive, hybrid a little cut my finished ball in the bunker which defends the green. Nice outing but a bit short. 2 putts.
Hole 4 by 4: Drive a little to the right. I have to get a shot from Sand over that big bunker but the flag is behind. I put my 4m ball to the right. My putt is too strong and I pass the 2m hole but I enter the next putt phew!!
Hole 5 par 4 : This time I put my drive to the left and I still have a big bunker to pass. I hit it well but my ball flies to the end of the green. I have a 20m downhill putt to make. It's a long putt and I hit it way too hard and go through the 6m hole and make two putts. Ouch have a bogey. This time I have to attack to make birdies if I want to win.
Hole 6 par 5 : My drive is straight but a little shorter than usual. My second shot, I play a hybrid to attack the pin but I don't accelerate enough and my ball ends up in the bunker. No big deal, I love bunker exits. I'm going for a nice outing but once again I'm not accelerating enough and my ball is still too short compared to the mast. I have a 5m slightly uphill putt to make. I remember the greens rolling a lot. and my putt is still 2m too short!!! I don't understand anything about these greens. I absolutely have to return this putt to stay in the race. And I miss it.
I'm exploding. I can't win anymore, I have rage, tears flood my eyes. I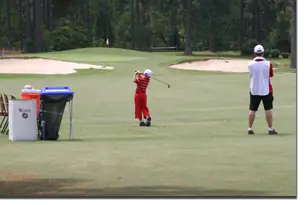 don't like golf anymore.
At the start of the 7 a par 4, I still can't calm down. I am unbalanced and my ball goes to the right and ends up on a path. I have the right to a free drop but if I do I have a big branch that stands in my way.
So with my caddy we decide that I'm going to play the ball whereù she is punched with a 7 iron shot. It's a difficult shot but I hit it well and my ball is in two on the green. Phew. but I lost the competition and I can't get that out of my head. I have a 15m putt to make and I remember the greens are. fast. and I stay much too short. I still want to hit my second putt. My ball stops 1 cm from the hole. another buggy. I have the impression that everyone is mad at me, I even see a lady who is making fun of me. I tell my caddy who tells me I'm stupid. He tries to calm me down and reassure me, but I I wanted to win so much.
The 8 is a very difficult par three, I don't think I'm going to make it. I get shaken a little by my caddy who tells me if it's that I think it's not worth playing it and that I've already done it well. finally my Iron5 arrives on the green but I'm afraid to putt, I remember that the greens are fast. my putt is two meters and the next one goes to the left of the hole which gives me another boggey.
For the 9 I don't want to play it anymore, I'm out of juice. I send a scratch drive, I have to hit a 5 iron (the other days it was a pitch !!) to get the green, which I do but my ball is at the bottom of the green. I have a 15m putt but my ball only rolls 10m, the next putt is more supported, it exceeds the hole by 40cm and guess what, my eyes are full of tears and I can't see the hole, I misses this little putt to end up with a double bogey and a catastrophic card of 42 or +6 !!!
What a tough experience.
I finally finished 26th by playing in the end + 12 over the 3 days whereas if I had stuck to hole 6 I could have finished 11th or even less.< /p>
You could say that I missed my world championships even though I am now 26th player in the world !!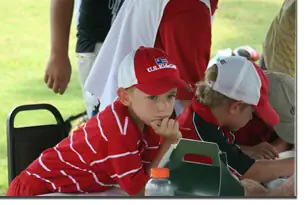 I could do much better.
but I I like competition, I like to winand especially I like golf and that I will continue to m train again and again and that I will come back next year with the same desire to win.
-----------------------------------------------------------------------------------------------------------------
An other bad day !!
+ 4 in the snatch. My putting, which is usually my strong point, there's nothing!!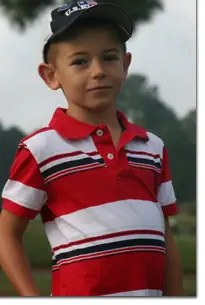 There were heavy thunderstorms last night , the greens were wet and strangely they rolled a lot, it's impossible to understand anything anymore.
The draw for departure made me leave at 9:01 a.m., so I got up at 6 a.m. it's really not my thing to get up so early, it took me more than half an hour to wake up and still after we put thrown in the shower.
I wanted to do well today so much that in the end the opposite happened. Instead of belaying the putts and putting it "given" as my caddy told me, I attacked the holes, and as often in these cases, my ball exceeded the hole by 3m.
Hole 1 par 4 : After the call from my friend the starter, I plant a super drive 40 or 50 m longer than my partners of the day. A shot of cut sand which leaves on the left whereas I had a small approach of 30m to make, I find myself with 2m of the green. Approach that stays to the right and too long, follow two putts. I start my day badly with a boggey. Flute of goat droppings I'm going to have to attack to catch up with this blow.
Hole 2 par 3 : 8 iron swings well, my ball pitches two meters from the pin full axis and passes two centimeters from the hole but goes 4 meters behind. I try to tuck in the putt but it's still 5cm too short!!
Hole 3 par 5: Superb drive, followed by a hybrid shot that stays two meters from the green. Approach to the pitch a little long, my ball is 5 m behind the flag. My caddy tells me to put it "given" but I want to put it in. wow this green is fast, my ball ends up on the other side of the hole but at least 3m50 away. My second putt is 10 cm too short, because in this sense it rolls much less. Ouch have another boggey, that gives me two shots to catch up.
Hole 4 by 4: Medium drive, slightly long 9-iron. Putted approach but two meters from the hole. I go two putts and one more boggeys.
Hole 5 par 4: Correct drive but a little to the left, I have to go over a large bunker to get to the green, which I do on the sand. My ball is behind the 4m flag. The putt is downhill with a slope and as earlier I found the greens very fast, I putt very softly and my ball stopped 40 cm from the centerline hole. damn a dud birdie.
Hole 6 par 5: My disaster hole yesterday! There I will not be fooled and I can eagle on this hole as I did in training. My drive is correct without more. My second shot, a hybrid, goes a little to the left and I find myself level with the green but in the rough. Pitch shot that I try to get my ball close to the hole which deflects it but stops at 4m. I try to return the putt on a slope but my ball goes 5 cm to the left. I cry with rage. I eat my putter. I only do the par!! My caddy tells me par is great, but I wanted to do an eagle, he doesn't understand anything.
Hole 7 par 4 : I find it hard to calm myself down, I'm so angry. So I make a medium 5 wood start which forces me to do a 40 m sandblast above a huge bunker. Great shot but my ball rolls on this ultra fast green and stop 10m from the flag!! As it rolls I make a soft putt but so soft that it stops 4m from the hole. The next putt, my eyes are full of water and the ball exceeds the hole by 80cm and I enter the next one. another buggy.
Hole 8 par 3 : The toughest part of the course. I can't manage to calm my rage... My caddy asks the others to play first and tries to reassure me but I'm afraid of missing my 5-iron shot. Finally I plant the green. I putt for birdie but my ball stops 2 cm from the hole. that's not true!!!!
Hole 9 par 4: While going to the start my caddy speaks to me a lot for myself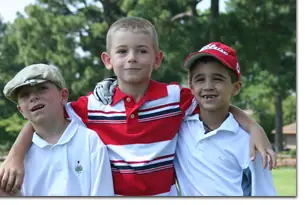 reassure and try to make me laugh but I can't. Yet he is funny;-))
One of the other caddies comes to see me to tell me that I'm a great player, that I have great game maturity, a great swing, that I'm sure I'm going to become a great player. but now I want to be that great player!!
He's still nice so I give him a good drive but a little to the right. 60m pitch shot over a huge bunker, everyone cheered my ball must be on the mat !! but no, it is at least 5 m behind. Well I'm going two putts and therefore no birdie today when I made it on all his holes during training. understand nothing about this game. Besides, I don't know who to call this "game". because I didn't have fun today.
I am therefore 19th, 3 strokes from 8th and 6th on the podium.
DeMayn.
-------------------------------------------------------------- -------------------------------------------------- ---------------
The night was difficult so wake him up too. It was very hot today (+ 40°c) with an unpleasant dampness. The storms arrived in the middle of the afternoon preventing certain parts of 18 holes from finishing.
Bad start. I played +2
It's not bad you will tell me, yes, but in recce I played 31 and 32 (Par 36) 1 bogey, and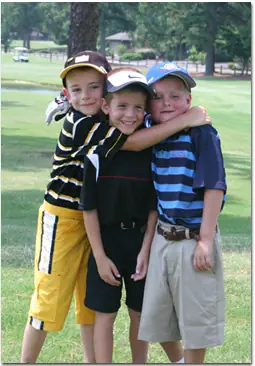 especially a double on a par 5 where usually I play eagle or birdie. And I only made one birdie out of the four or five I tried to get in.
Well, I'm only 3 shots from second place.
I played with two Texans who played 48 and 50. What made the pace was slow was a long wait. at least i played all tee times first;-))
We arrived an hour and a half before my departure, a little warm-up on the approaches followed by a half seal at the practice but already there it was very, very hot. Back to approaches and putting. Then a cart driven by a grandmother took us to the start. A gentleman, whom I am starting to know, called us: "Participant in the 9th world championships for children aged 12 and under representing France and coming from Grenoble we called from tee n°1 Tom Gueant ". It's always weird, but I saw at the Evian Master or the Canadian Open that they did this for the pros so I find it funny, even if it puts a little pressure.
So at tee number one a good drive followed by a well-placed pitch shot puts me in birdie position. My put remains 10 cm to the left. Too bad a miss.
Hole 2 par 3, 8 iron shot on the green but far enough from the pin. A badly apprehended long putt and I make a 3 putts! Have a bogey.
Here the greens are weird, they roll a lot in one direction but not in the other and looking at them even from very close you can't see the direction of the roll. They call it " grass " I believe. Even the fairways are different from ours. To make a divot is almost impossible, there are so many roots under the grass that it stops the clubhead.
Hole 3 a par 5. I'm on the front green in 2 but I completely miss my approach that I wanted to go in to make an eagle. Follow two putts including one of 3 or 4 cm) I wanted to make an eagle finally I miss a birdie !! I should have listened to my caddy.
Hole 4 a par 4. Head in the clouds, I completely miss my drive forcing me to play a 7 iron (instead of a pitch usually) which I still put on the putting green. Plus two putts, one of which is 5 cm, another missed birdie.
Hole 5 a par 4: Nice drive followed by a 9 iron approach plus two putts. Nothing to say.
Hole 6 a par 5: I like this one, well usually. I don't know what I thought at the start but I sent my drive into a bunker completely to the left and only 70 m away while the fairways on the right are very wide and downhill... My two other partners m followed!! I wanted to take a 7 iron to go forward, but my ball hit the lip and stayed inside!!! Disaster!! I took a 9 iron which I took out followed by a 7 iron which I put on the green but away from the pin. Good in 4 on the green after two horrible shots, it's fine. but since I didn't want to boggey I attacked my 12m putt to put it in. result a three putts and a double boggey!!! I've been training here for ten days and I've never done one before and now I'm doing one in competition!!!!
It's not just golf!!
Hole 7 par 4: We forget the disaster hole of 6. Wood 5 medium, nice Sand of 45m my ball is 5m from the flag with a downhill putt and slopes. I'm taking it back!! Finally a birdie that I was not expecting this one. Ah, that relaxes me. I find myself smiling a little. The spectators applauded.
Hole 8 par 3: This hole is horrible. The green is high up, defended by a huge bunker on the left and another on the right. I take a 5 Iron that I send on the green. Phew!! Two putts, one of which is less than 10 cm. Definitely not my birdie day.
Hole 9 a par 4: There is water on the left. but I found the fries and I hit a superb draw drive. Too long a pitch approach and two putts.
This is my first day live at the world championships. DeMayn, up even earlier, my departure is at 9 a.m. (3 p.m. in France).
So the sequel to Mayn.

July 2008 : Finally I'm at the World Championships. Like the ones I've done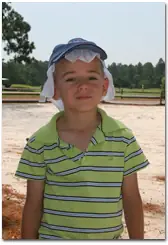 last year they were held in Pinehurst, North Carolina. This is where the 2005 US Open took place, where Michael Campbell had won...
It's a place that I love, it's magical. Pinehurst is eight 18 holes with the famous No. 2 course known throughout the world. There are, it seems, 43 golf courses over 15 miles around. It is very hot (35-40°c) but it smells of golf everywhere. The people here are really very nice and very welcoming.
As for the world championships, there are just under 1300 children from around thirty countries!!
And guess how many French??
5 !!
And yes, it's not a joke. There is another boy of 11 years old Jean Lacroix and 3 girls of 11 and 12 years old.
The Chinese are a good quarantine, a real delegation with the same yellow outfit.
It's been a week since I arrived. I must have played a dozen times the course that I already knew since it's the same one I played at 5 years old last year. My best scores are 31 (-5) / 32 (-4) / 34 (-2) on this par 36. It seems shorter to me this year. I managed to make birdies on all the holes, I still have to do them in the same part ;-))
There are a hundred children in my 6-year-old category. This is also the first time that I will compete with children of my age. Usually I'm the youngest by far. We are about fifteen foreigners which makes a very big majority of Americans. On the first day, I will therefore play with two of them. My departure is at 10:18 a.m. (4:18 p.m. in France) which is perfect for me. Some leave at 7 a.m., which is super early, and others at 12:30 p.m. It's very hot.
I can't wait for the competition to begin!!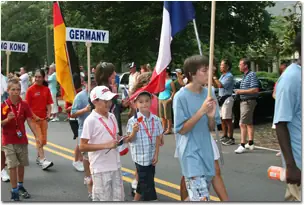 Tonight there was the opening ceremony with a parade of nations through the streets of Pinehurst was fun. It looked like the Olympics. There were many people along the streets. I thought it was a bit short, I would have ed for an hour. Then there were the speeches, the little American who sang the American anthem.
After a splash in the hotel swimming pool (a moment that I love) head to sleep to be in shape because despite everything, up at 7 a.m. to be wide awake at the start.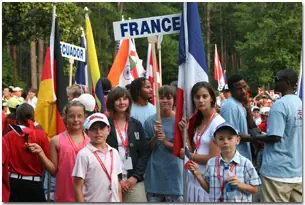 The sequel to Mayn.
Thank you to those who helped me to prepare as well as possible for these World Championships, namely: my trainer Jimmy May, my coaches Olivier Knumpfer and Frédéric Lecomte, Jean Philippe Boulard (Golf Uriage), Didier Revilliod, Bruno Pardi, Alexis (Golf Bresson), Vincent Thibault, the Evian Training Center, mom and dad and especially Renald Quatrehomme.

May 2008 : Competition is went well. I finished first of the 6 year olds and 20th of the 7 year olds. but the easiest way is to read my story day by day on www.golf-zone.com
It's good!! Just had my first day of competition at U.S. Kids Golf European Championship. A card of +6 with a wind of madness...
I am counting and relieved that the competition is finally starting!!
You can follow in detail all my trip on the site of www.golf-zone.com whereù I have been telling my adventure daily since Saturday. I'll put more photos and impressions here when I get back...
At the end of May I'm going to the European Championships in Scotland, I can't wait to be there. It will be difficult because the others will still be older and I have never played on links but it will still be a great experience.
The surprise I announced for May 16 is postponed to a later date, I will keep you posted...

April 2008 : I trained a lot this month especially during the school holidays when I did 2 training sessions a day when the weather was nice. I won the first phase of the departmental championships with 68 on 18 holes laid out in a short game but I had a lot of trouble concentrating... My friend Mickael Lorenzo Verra was 2nd at the China Open and 6th the following week in Mayne Singapore, he is really too classy, ​​he will soon win many tournaments I tell you...
M6 did a report for the magazine 100% mag. There were 3 days of filming to do this 6-minute portrait which I find really well done - Thank you Jacques and Jean Marc.

2008: I was invited by Marc ASSOUS the organizer of the Paris golf show, which took place from 15 to 17, to come and give demonstrations.
I enjoyed it !!
It was better than Eurodisney.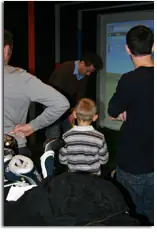 It had been 3 minutes since we arrived and Marc ASSOUS called me to hit balls with a gentleman called Dany BOON, I don't know who he is, but a lot of people were watching and they were bothering him all the time to have their picture taken with him.
I stayed at the salon on Friday, Saturday and Sunday.
On Saturday I hit balls for at least 8 hours on an AMAZING golf simulator!
This is the GOLFZON brand. We are on a plateau that tilts depending on where it is. is the ball on the course, he films your gesture and shows you the video right after, he also gives you full information about your swing...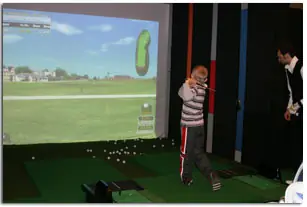 There was also M6 who followed me all day...
In the afternoon I won a putting contest and then I did a putting contest against Julien Quesne, he is really very nice, I gave him an autograph and he even knows how to read attached, yes yes I I asked!!

Frankly, go there next year it's really worth it.

Then I went to train at the Training Center in Evian.
This too is GREAT.
There are all possible golf shots imaginable.
There is even a box with 4 cameras to analyze the swing and the people are very nice and welcoming. And it is really very beautiful. Too bad we don't live in Evian.
Otherwise I continue to train almost every day, it's too "bland" (funny for those who didn't understand ;-))
I can't wait for the competitions to start...



February 2008: He is so beautiful that my daily training is done only on the course. I've only hit one bucket of balls since the beginning of the year...
I did an internship in My club in Charmeil with Jimmy during the first week of the holidays.


January 2008: First of all, my best wishes for health and happiness to all and especially to those who support me...
My year 2008 is going to be an even more exciting year than 2007.
I must indeed play the European Championships in Scotland at the end of May. Then mid-July maybe the Callaway in San Diego followed by the world championships in Pinehurst whereù this time I qualified directly. The French Championships of the Junior Elite Tour in November and to end the year, perhaps the Doral in mid-December in Florida.
And of course the departmental and regional championships as in 2007.
Nice program, isn't it?
I did a little quiet resumption of training around January 20th.