Article de
Golf Rhône-Alpes Magazine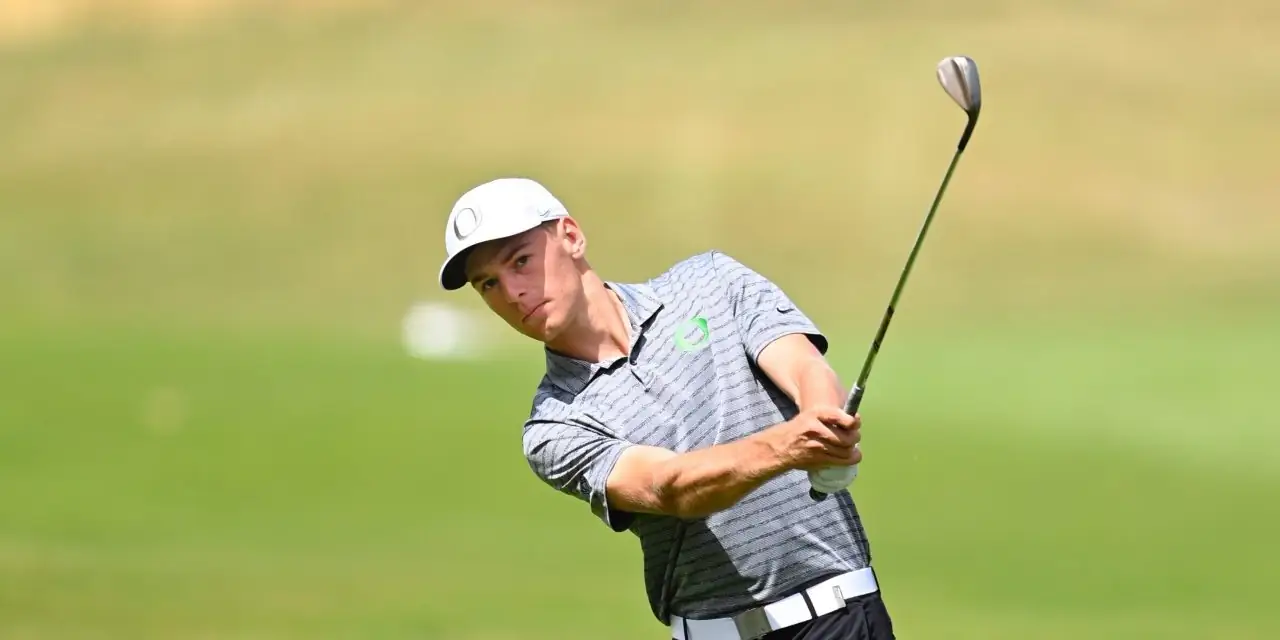 Academics: Their American Dream (II)
Tom Guéant: "I love my life here"
Currently 2nd in the Amateur National Merit, the Isérois has just experienced his first European championships with the national team. This year, he also won the Gounouilhou Cup with Terre Blanche, after winning the "British Boys" last year. Results that reflect his progress since joining the University of Oregon in September 2018
– Tell us about the decision process that made you choose the University of Oregon, Eugene…
"After obtaining my baccalaureate S SI with high honors, I received about fifty proposals from American universities. I had selected Stanford, UCLA, Illinois and Texas Austin but in January 2018, I received a Mayl from the University of Oregon, winner of the NCAA championship in 2016 and runner-up the following year. They really did everything to get me to sign with them. The assistant coach came to Paris to see me play, they invited me to visit the facilities and then made offers that were hard to refuse… Being quite good at school and at golf, the idea was to be able to perform at a high level in both sectors. »
– How is your life there?
"Academically, I'm a major in math/computer science. The days are very busy: up from 7 a.m. until midnight minimum, without a minute wasted. I have lessons in the morning then I do golf training, physical preparation, yoga… Then homework, I have a lot of it, Plus shopping, meals, laundry, cleaning… that's a lot of things but i love my life here. »
"The harder you work, the more they respect you"
– Do you think you have been able to improve your game more easily since you have been in the United States than you would have done in France, in a pole for example?
"Absolutely. The training infrastructures are without common measure with those of France. The courses we play are worthy of the PGA Tour and sometimes even more difficult. The level of golf has nothing to do and it pulls up. »
– What differences do you see in the approach to top-level sport in general and golf in particular?
"Here, they can invest enormous resources thanks to their sponsorship system, which is much more advantageous than in France. The mindset is more competitive but still positive. If you're good and you work a lot they'll do everything to help you be even better. The more you work the more they respect and encourage you. And when you win there, you're the star and it's rewarding, it makes you want to surpass yourself even more. »
– What are your goals for 2021? And in the longer term?
"With the current health problems it is difficult to predict but I would say, for 2021, win university tournaments and join the top 50 in the world amateur, at the very least. For the future, there are many objectives. I finish my course in June 2022, I would only be 20 years old (note: he was born on August 27, 2001). A world or university top 5 would allow to have invitations on the PGA Tour. A circuit on which I would like to win in the next four or five years… I currently have three English coaches who have experience at the very highest level and I am preparing for it. »
– What advice would you give to a young Frenchman who wants to come and study and play golf in the United States?
"If you really want it, not just to follow fashion, then go for it. but beware, this is planned long in advance. Understand that the Americans are not waiting for you. It's up to you to do everything to make them want to recruit you and it doesn't just happen six months or a year before. There are a lot of universities of all levels and in many sports. If you are highly motivated and a hard worker then you have a chance. And it's really worth it! »