December 2017 : After much hesitation, as I can't go and play the South Beach, I decide to go and play the AJGA tournament in Las Vegas invited by Evian.
I love the United States. I discover a city of madness as I did not imagine, but I love it. At night, it's cold but during the day as soon as the sun is up, you can play polo and that's really cool.
It's the first time I've played in a desert and it's really special. For example, if you miss a shot, you end up in the rocks because only the tees, fairways and greens are green...
The first round I really want to do well, too well, and I play potatoes with a terrible +5.
The second round starts badly with a +3 on the way out, and the click comes after a string tucked in at 10 and a – 3 on the return allows me to return a card in par.
Too bad there isn't a 3rd or 4th round. but I finish 14th…
I was able to meet a few university coaches who followed me and that's positive, but what's less so is that we'll have to catch up on the seMayne course!

November 2017 : I went back to physical preparation and training, I really needed it.

I went to play the GP PACA at Terre Blanche golf course which I did not know.
And big surprise!!
The course and the whole complex are fabulous. From the first holes, I felt good on this course. The training center is really great. The GP is a category 0: the only one with La Mouchy to have this level.
After two recces, I made a first lap, despite a few commas, in par.
For the second, I left in the last part and playing in 5h45 is hell. We even took 45 minutes to make a hole!! That's when I chained 3 bogeys, which in the end will cost me dearly. Fortunately on the last 5 holes, we were able to play them at a normal rhythm and I was able to make 2 birdies by making a comma for birdie at 18… I give back a card of +1.
I'm leaving for the 3rd round penultimate game but as there was a cut, there are far fewer players and the rhythm is correct. I end up with an orderly at 18 and a last birdie and I return a -1 to finish 4th at 3 shots from the first!! It's infuriating because with a normal pace in the second round I could go for the victory...
but I still leave satisfied for once!!
This 4th place takes me to 250th place in the World Adult Amateur Ranking (WAGR), that's cool!!

October 2017 : Despite my doctor's advice, I went back to play the Chamonix Grand Prix at the beginning of October. It really is a magical place that I love. I had orders to only play at 70% so that my fracture would not let go. I did a recce the day before and it had been two and a half months since I had played 18 holes. The first round is going very well, I return a card of -4, top for a return. The second round, I battle a little but I return a card of +1 which puts me in 3rd place so in the last game for the 3rd round. The day does not go absolutely as I had imagined. I am unable to hole a putt. It never happened to me like this. Ok I'm very tired because I haven't done 18 holes for a long time and this is my 4th in 4 days, but still… 41 putts later and a +9 I finish 23rd…
Mid-October after much hesitation, I'm going to Evian for a qualifying tournament to play in December in Las Vegas an AJGA tournament. As I need to do 18 holes I go there. The course is one of my favourites, if not my favorite. It is a unique place in the world for me. I have a lot of very good memories there, in particular my 2nd place in the Juniors Cup which, you could say, are the world championships for 14-year-olds (Spieth and Thomas did it at the same age…).
As it's an U18 competition, the distances are very short and I don't like it even if I always have to play at 70%. I finished in 5th place, not great but hey, I'll at least have my ticket to Las Vegas if I decide to go...

September 2017 :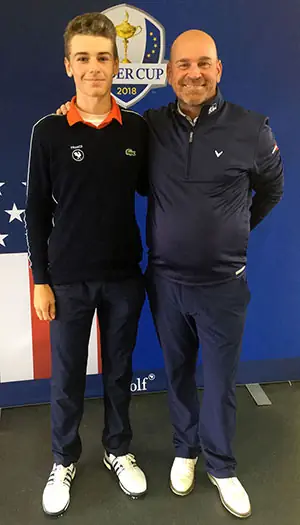 The federation organized, for the players of the French teams, 3 days at Le Golf National including a day with the captain of the Ryder Cup: Thomas Bjørn
Just exceptional!!!
We worked with him on the little game around the green.
He taught us so much in such a short time.
I came home with a tenfold desire to work on my little game.
I discovered not only a great golfer but also a great gentleman even if he is shorter than me with his 1m88 ;-) !
Tip Your Hat Thomas

July 2017 : I've been talking about the Biarritz Cup for a long time. So I wanted to go play it. Plus it's a beautiful area.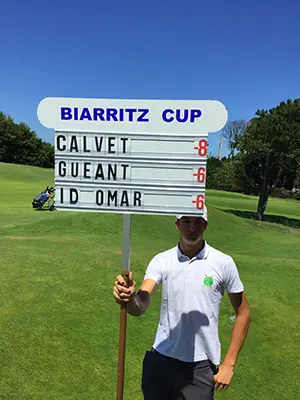 I was able to make a recce with Laurent Bauduin who gave me a lot of info so a HUGE THANK YOU to him.
I leave for the first part at 7:15 a.m. so I wake up at 4 a.m. On the driving range, although very small, there is a magical atmosphere with the lighting...
First quiet round with a – 5 without forcing.
The second round, as soon as I warmed up, I felt feverish as if I had hypoglycemia, yet I ate like the day before… It lasted 8 holes, my legs and arms were shaking… not easy to play well . I am at the start from 9 to + 3. but when linking from 8 to 9, it passes. I find strength and I finish at +1. I limit breakage.
The 3rd round, like the first, quiet I give a card of -2, so I am at -6 total and in the top 5.
So I go to the penultimate bet for the 4th round.
And there rebelote, like the 2nd day. As soon as I warmed up, everything was shaking. I have no more strength, very bad back… I still take the start hoping that it will pass but it gets worse. At hole 5 or 6, I don't even know what golf course I'm playing anymore...
They want to stop me but I don't want to give up.
I have ups and downs.
Finally, at hole 12 I am forced to stop!
In the locker room a referee doctor examines me and tells me that he doesn't really know what I have but that I'm not well… He calls the doctor from the federation… They tell me that it's out of the question that I go and play in the French U16 team championships in 2 days with My club of Cannes Mougins…
I am devastated!! Especially since I'm supposed to leave for the France team the following week Mayne in Norway to play the European Young Masters…
The next day, I stop on the way back to greet my teammates at the Nîmes Campagne golf course. I really have the balls not to play with them but I have to go for exams to find out what I have.
It's at the hospital, on the floor of the top athletes that I do them, I even have the right to a cardiac ecology required by the doctor of the federation... They find nothing and tell me that I have a contracture in the lower back, which would explain the pain but not the tremors, the fatigue…
With the agreement of the sports doctor, I am still going to Norway…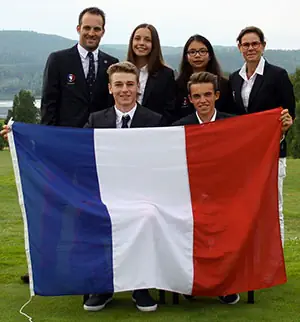 I take off at 6am for Oslo in Norway with the France team for the European Young Masters.
After 2 days of recce which are going well, I find myself at the start of 1 in the same state as on the 2nd day of the Biarritz Cup, extreme fatigue, tremors, very bad back... I hang on like crazy to pull out a +5 card.
The second round I'm fine. Slight back pain but nothing else… and I can pull off a – 5 card and the high score of the day!! To understand nothing more!!
The 3rd lap I am fine until the 5th where I am at -2 and at the start of the 6th again, the same symptoms as the 1st day. I finish as I can, but doubled over in pain and no more energy. I return a card of +1 anyway and I end up in 14th place of a tournament that I could have won by being with all my physical means…
When we got home, we did a ton of exams.
Looking in all directions where the problem could come from.
After a lumbar MRI, we found isthmic lysis on the L5… 2 months of complete stoppage of golf and all sports… and I was lucky normally it's 2 months of corset and 4 months of rest complete...

June 2017 : Having chained 2 big tournaments in 2 weeks, I withdrew from the German Boys which is a very good competition on a superb golf course it seems, which allowed me to embark on the revisions of the French baccalaureate that I I spent June 15 for the written and June 30 for the oral.
but between the two I received a toilet from the federation to go and play an Alps Tour la Mirabelle d'Or on the Grange aux Orme Golfs near Metz . We did the road and I wanted to do a first reconnaissance in stride but there was a heat wave, so I only had the strength to do the first 9 holes. It's a twisted course with a lot of dog-leg holes, not very difficult and quite short where you can score very low but you really have to know it well to know where to aim and it's the kind of course that I don't like it very much.
The organization is top, it has been taking place for years. I have the chance to leave very early, avoiding the big heat.
but when warming up, I feel a lot of pain in my lower back. Even in ant it hurts. I'm leaving anyway, hoping it will pass. Two entry birdies…
but the return, which is really special, costs me dearly and I return a +3 card. Ditto the second day so that obviously does not allow me to pass the cut.

May 2017 : At the beginning of May, direction Bordeaux and the Médoc golf course that I don't know, with my new club: Cannes Mougins to play the famous competition, the Coupe Gounouilhou which brings together the 16 teams in the first division...
A great experience with a very good team. Captain Quentin d'Ursel immediately gave me his confidence by making me play the 2 rounds of stroke where I returned a card of +2 and +3 on a course that was not easy and very windy. ...
In the end we finish in 5th place. Unfortunately we lost in the quarter-final against the RCF. but I had a great experience with a great team, so I can't wait to play it again next year…
A short week of respite and as the federation granted me a toilet to participate in the coupe Murat on the famous golf course of Chantilly, the Vineuil that everyone is talking about, head north of Paris.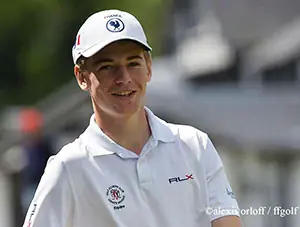 The heat is present, I can do two reconnaissance routes. My second reconnaissance, I did it with an Argentinian and an Irishman John Murphy.
I like the course, not easy with very good greens and almost perfect maintenance, I feel that I'm going to enjoy it...
La Murat is the biggest adult international amateur competition in France.
For the first round, I take a brand new putter that I have never played competitively with.
Well I shouldn't have!! 38 putts, which never happens to me but good 17 greens in regulation so a small card of +2. Correct!
The second round, I take another putter, which gives 32 putts and a card in par, so I quietly pass the cut.
I am once again the youngest to make the cut…
On Sunday, it's 36 holes to play like at La Mouchy.
Up at dawn, I play with a Finnish 42nd in the world and I bring another card in par. Less than an hour later, I leave for the 4th round, I'm tired but I'm fine.
I pass the outward journey at -2 but fatigue catches up with me on the return I miss 2 putts by one meter, damn it!! I would have liked to return a card under par, but it's a +1 in the end and a superb 24th place.

A day of rest with the family and head to the Clément Ader golf course near Melun.
One day I had the chance to meet Mr. Thomas O'Driscoll, a golf enthusiast and owner of the Clément Ader golf course. Two of his children play on the strong>Alps Tour, so he organized an Alps Tour tournament (the 3rd division among the pros) on his golf course and he sent me an invitation on Christmas Eve!!
So I'm going to play my first pro tournament at 15 years old!!
I start by playing the Pro-Am with Tommy O'Driscoll. Obviously he knows the course very well: it's his training course, so he gives me a lot of information because it's a beautiful course but not easy. Tommy tells me it's one of the hardest of the season, they prepared the roughs very thick…
Then, I was very kindly invited by Julien Brun to do the recce on Wednesday. Thanks again Julien for your help, but I'm out of business and I'm stopping the recce at 13...
For my first round, I have no particular apprehension, I play with two young pros and I play at 12:45. I pass through par on the way out which is pretty good. Then all of a sudden, a big soft blow, more energy... I am nevertheless well hydrated and fed but it's my 9th course in 9 days... At 12 I put a good face-off but I send 2 balls in the water on the attack of green… Result a quintuple !! Furious, I follow up with a double on 13 and end up bogey on 17 and 18.
A +9: my worst card in ages.
For the second lap, I'm the first start at 7:45 a.m. so wake up at 5 a.m., not cool for recovery.
but I have rage. I start from 10 and on 12 I birdie where I had lost 5 shots the day before and I go birdie on 13, a bogey on 14 then birdie on 17 and 18. I had lost 9 shots on the return but today I win 3 or 12 strokes away. Huge!
I start at 1 and birdie then another birdie at 4, so I'm at -5 for the day. I putt for birdie at 5 but I am hampered by a spectator who is in my line and who moves when I putt… result a bogey. I'm furious, I should have told him to leave but I didn't dare and I hadn't thought he would have moved...
At the start of the famous 6, a long par 3 with a complicated green with water on the right, I miss the green on the left, my chip however well played does not stop on this green downhill and I find myself at 6 m from the hole, the adrenaline helping, I load my uphill putt and find myself 2 m too long with again a downhill putt which tumbles and it's a 4 putt and a triple bogey which falls. Imagine my state of mind…
Suddenly, I attack hard and birdie the 7th and 8th, I plant the mat 2 m away on the difficult green of the 9th but I don't putt in...
I finish at -3 despite my triple!!
Which will still be the best score of the day but not enough because I only missed the cut by one shot.
I finished 46th out of 150!
I'm dead!!
Summary of this first pro tournament: I showed that I had spirit and character. I wanted to honor my invitation and I'm sure that with a little freshness I could have gone for a podium...
So it's only a postponement.
A huge and sincere THANK YOU to Mr THOMAS O'DRISCOLL for allowing me to experience beautiful emotions. These tips are always accurate and valuable to me.
Come on, I have to go home quickly to catch up on classes and prepare for the upcoming French baccalaureate…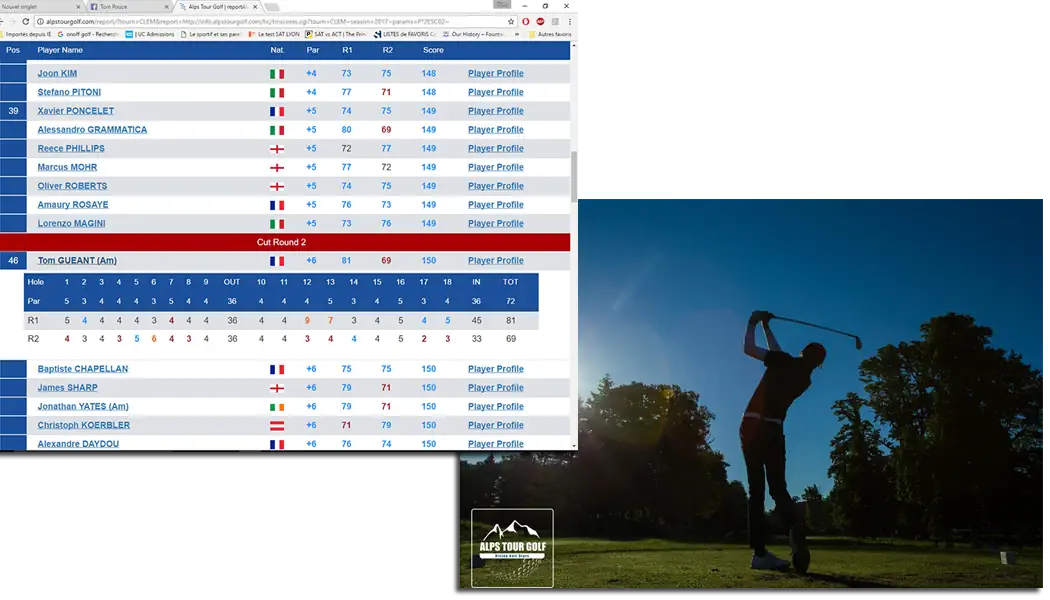 April 2017: At the very beginning of the month, I went to the Grand Prix de Nîmes Campagnes in my new colors. I hesitated a lot to go there because it was on this same course that I was bitten by 2 Aspic vipers when I was 10 years old... I suffered a lot and took 2 years to recover...
I wanted to come full circle by going to win.
but the weather chose otherwise.
Correct first lap in +1, second lap canceled due to rain, third lap a strong swirling wind that I did not know how to apprehend meant that I only finished " " 4th. but it's my mate and friend Tom Vaillant who wins so I'm super mega happy for him. Well done Tom!!
In summary, for my last four competitions I finished: 4th - 2nd - 2nd - 4th
Not a bad start to the season, isn't it?
I then left 950 km from home to take part in the Internationaux de France cadets: the Carlhian on the very beautiful course of Granville where there is always a wind that drives you crazy… A real links in France…
Except that there will be no wind there...
but above all, it was during my first reconnaissance that I learned of the death of my grandmother Maryse.
Torn between the desire to stay and compete and to go home for my grandma's funeral, I played the 2 rounds of stroke but, even if I played well, my head and heart weren't there. not. I had the impression of not being present, I had a lot of trouble concentrating... so we came back at night to attend my grandma's funeral on Saturday and I did well...< /p>
I really wanted to thank the golf people: The starter, the lady at the reception, the people at the restaurant… for their welcome and their incredible kindness as well as the passionate people who followed me (even during the recce ) not hesitating for some, to drive 120 kms and bringing young people from their club so that they can see us play...
It's rare...
The page turned, 4 days later, I went to the Fontainebleau golf course, the most beautiful one I know in France. I love this course and its greens. The Frayssineau Mouchy cup is the oldest (1927) and important Grand Prix of France (Caté 0).
The most beautiful organization too, livescoring, huge leaderboard, score holder... and a lot of public.
The greens are huge with lots of subtleties, fast… everything I like.

The first round went pretty well, I returned a card of -1.
The second just as well with a card of -2 even if a few putts would have deserved to go in but I take…
We are only 3 players to turn 2 cards negative…

On Sunday, 36 holes await us.
Long day…
With freezing cold (0°), which I absolutely hate, it took me 5 holes to warm up and I started from 10 by boggey and double boggey… and I ran all morning to make up for it...
but the putts didn't fall and I returned a card of +5….




but no time to think about it since I only have 45 minutes before leaving for the second round!!
My legs hurt badly but I held on and gave back, a little disappointed, a +1 card.
So in the end, I finished in an excellent 6th place just 3 strokes from the podium.
Another great week Mayne…

March 2017 : For my resumption of competition, I participated in the Grand Prix du Cap d'Agde which I did not know.
Well, I did well to go there and this, for multiple reasons.
The first one, I had a wonderful encounter there.
We had booked a departure for a reconnaissance course and by chance this recce was done with Julien Duarte a member of Cap d'Agde and a friend Ela Bielecki.
Passionate about golf, Julien very quickly offered to explain the course to me, which is in superb condition with very good greens...
That he would be delighted to caddy me during the GP….
I'm used to being alone, but the next day Mayn we decided to do a second recce with Julien as a caddy, which went really well.
Having not competed for a long time, I preferred to play the first round alone, especially since the conditions were perfect, bright sunshine, no wind...
I return a card of +1 with some small errors due to the lack of competition...
Ditto for the second round, I go alone but the wind has picked up and it is constantly turning. As agreed, Julien joins me at hole 7 where I just birdie but I'm already at +3. With his invaluable help, I limit the breakage and return a +5 card.

For the last lap, the wind picked up around noon.
The morning games were lucky not to have wind but light rain making the greens very receptive. Julien came to caddy me for the 18 holes.
This is my 5th course in 5 days which I haven't done for months.
The tiredness is there. I grumble at the driving range...
I am not active at the start of 1, result ball in the water… double boggey…
Suddenly that wakes me up and Julien guides me… The wind has become enormous at 3.
A big fight all day with this crazy wind and with a crazy finish with 3 birdies on 16 17 and 18. Drive pitch downwind on the par 5 of 17, imagine…
I return a card in par despite my double of 1…

A HUGE THANK YOU to Julien for his help and support, a real nice meeting.

Result, I finish 2nd ex of this beautiful Grand Prix and icing on the cake, my access to the adult world ranking…
The season is off to a great start...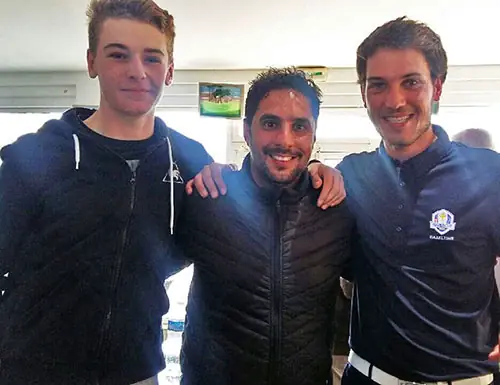 Me with in the center Julien Duarte my caddy on this GP and Piedelievre Paul my partner of the day
I then took part in the Grand Prix de l'Isère on the Charmeil golf course. A 2-turn category 6.
The course is not very difficult and he was very well prepared.
The wind picked up halfway through but I returned a -1 card and a second place.
Sleeping at home and leaving for the last game I felt like I was going to train...
The first day I had already done quite a bit around the holes, but on the second lap it was even worse. I had never experienced that. Commas, ties, a ball that stops at 2 mm, at 2 cm... a lot of frustration and annoyance cause me not to putt for the victory at 18 and I finish 2nd extremely disappointed…
At the end of March, asked by several first division clubs to strengthen their teams in order to participate in the famous Gounouilhou after much hesitation when leaving Mionnay, I decided to join the Cannes Mougins club and its team that I know well.
A new adventure begins…

February 2017: Sick for the Saint Donat Grand Prix, I unfortunately couldn't go. With a lot of regrets because it's a great Grand Prix, on a superb course where we are superbly welcomed by Didier Revilliod and all his team.

January 2017: My best wishes for health and happiness to my supporters.